Safe and environment-friendly
Call us on 09 71 43 38 70
The fabric is woven in France in a small village of Vosges
, then printed and coated in a gorgeous place on the riverside of a lake, called Gerardmer. The printing is
Oeko-Tex class I certified
(babies can put it in their mouth), and the coating is environmental friendly. It is made with no toxic products, no PVC and no phtalates. 
Discover
Update the decor of your room with elegant and refined decorative accessories. Cushions, in particular, can add a touch of color and style to your space, creating a comfortable and cozy atmosphere. With a variety of sizes, materials, and patterns, there is a cushion for every decorating style. Transform your bedroom in no time with our trendy cushions.
Discover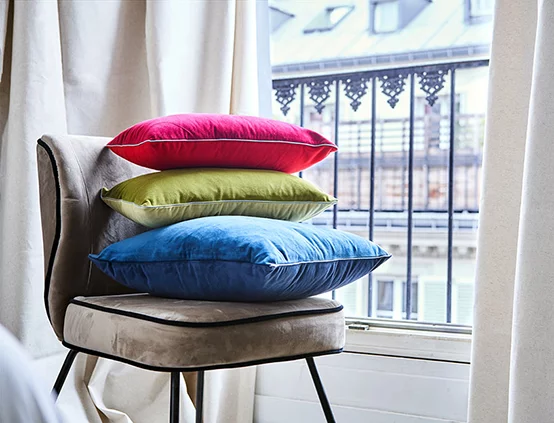 A sponge wipe after each meal is enough to remove stains. You can also use Vinegar or bleach to remove stubborn stains. Machine washable is allowed occasionally at 30°C without any conditioner and no spin.
Discover
Excellente boutique, sérieuse

Je vous recommande sincèrement cette boutique. Je l'ai découverte par hasard sur un site de couture ; j'avoue ne pas être déçue. Les articles sont envoy&...
Brigitte
12/07/2023
Par correspondance

Livraison TB
Olibi
12/07/2023
A recommander

Entreprise sérieuse et professionnelle, Je recommande
Toto
12/07/2023
Choix et disponibilité des produits

Site bien conçu, grand choix des produits, service client sympathique et traitement hyper rapide de ma commande ; en résumé, le professionnalisme est au rendez-vous.
Faucon
12/05/2023
parfait

Très bon service, réponse rapide aux demandes ,beaucoup de souplesse pour les dimensions personnalisées.Personnes très aimables au téléphone.je recommande ...
Michèle
12/05/2023
TRES BIEN
Satisfaite de mes achats
ED
12/04/2023
Envoi très rapide

Parfait
Camille
12/04/2023
Syl

Du choix et une livraison rapide
Syl
12/04/2023
nappe pompadour

l'emballage tres bien ainsi que le produit tout est de bonne qualité
gentili
11/30/2023
FLEUR DE SOLEIL

commande livrée très rapidement. Emballage soigné. Très bon site d'achat.
MICHELLE
11/27/2023
Absolument conquis!

J'ai un immense respect pour Fleur de Soleil, qui sait proposer des produits de qualité à prix raisonnable, le tout avec des designs élégants et rafraîchissan...
Oli
11/27/2023
Excellent choix de produits

Livraison rapide
Dragon
11/27/2023